HEALTH, WELL-BEING, LIBERTE
Efficient, simple and reversible!
SpermaPause® is a male underwear for male fertility control. Therefore it is a practical way for men to enjoy a break in their fertility for a considered period of time.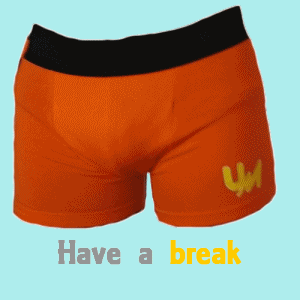 EFFICIENT, NATURAL AND REVERSIBLE
Effectiveness greater than pills
Effectiveness similar to vasectomy (99.9%)!
Allowance to short omissions up to 4 days without cancelling the ongoing contraception
A natural process
It's a physiological process common to all mammals.
Pause of spermatogenesis by thermal effect.
No medicine, no hormonal products, no waste.
A man can be fertile all his life
Spermatogenesis is the period of sperm maturation that lasts 74 days. It reactivates after the period of contraception.
It is always ready to restart for a natural return of fertility.

Simply a boxer brief to wear
At least two hours a day.
Its integrated thermal compress will pause sperm cells production to prevent unplanned pregnancies. This is the thermal male contraception.
No side effects
It is a natural physiological mechanism: men keep their libido and still produce semen. They will ejaculate normally.
TMC has been tested for periods up to 10 years attesting to no side effects.
Swiss and French medical researchers studied this contraception.
Apart from condoms and vasectomy, male contraception does exist. It is quite natural in that way that is based on a physiological process, called Thermal Male Contraception (TMC), that requires no medicine. Our product SpermaPause® implements TMC in a soft and practical way in order to provide men with one of the most effective contraception. SpermaPause®  is a real alternative to all female contraceptives. Within couples, women no longer need medical devices nor hormonal drugs.
Our product fits every man. It is safe, tested and efficient.
All you have to do
is to order right below and your pack will be delivered to you at your chosen address, wherever you are on the planet! You will gain pleasure, comfort and serenity, simply wearing an underwear! At last, a true male contraceptive!
Simply enjoy the best, now!
SpermaPause® is efficient, simple and natural
Conditions of purchase and delivery

Vraiment très utile
★★★★★
"
J'avais des doutes au début, mais ce calçon s'avère vraiment très efficace finalement. ca fait 4 mois que j'ai commencer ma contraception et depuis 2 mois ma femme a arrêter la pilule quand j'ai fais mon test qui montrait un niveau très bas de spermatozooides. Le test est très rassurant et le produit vaut vraiment le coup. Merci encore pour vos conseils!
"
"
Du bonheur, du bonheur, du bonheur de pouvoir s'assumer sans passer par ces demoiselles :-D
"
Amazingly effective
★★★★★
"
It works straight away for me, with so little to do. How come this stuff ain't known better? Should be a first need product. Wish you good luck Folks!
"
SpermaPause costs less than 1 month of alimony for up to 4 years of use